Audi R8

get a quote.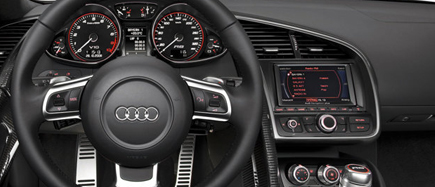 Audi R8
Category:
sport car hire

Delivery in Europe: Austria, Italy, Uk, Germany, France, Spain, Switzerland
Top speed: 302 km/h
Length x Width x Height:443-190-125 cm
Number of seats: 2
0-100 kmh: in 4,6 sec (claimed)



The Audi R8 originated on the race track to give its best on the road. An aluminum frame which contains the housed engine almost abreast of the tarmac. The drive force is distributed on 4 tyres, so as to support the adhesion of the tyres on the road during bends and at high speed.
The most striking feature of the R8 is the perfect balance between the under steering and over steering for maximum driving pleasure.
The performances are excellent with a sprint from 0 to 100 k.p.h. in about 4 seconds with a top speed of 295 k.p.h. The safety level is high with perfect braking. The balance of this car justifies the famous Audi brand. Driving is easy and perfect even for long journeys through many European cities.
Pick up and return in Europe:
Italy, Switzerland, France, Spain, Germany.
Pick-up and return in all European cities, to satisfy all customer needs.
Our luxury car rental service guarantees maximum service for our clients. It is possible to rent a luxury car in any European city and return it in another city or different nation.
Rental price
ask for a quote immediately
Rental prices are variable according to the period and duration of rental.
You can ask for a quote immediately, indicating the exact place of pick-up and rental period.
We will offer the best prices with a 5 star service.
Select Country
and Get a Quote