Audi Q7

get a quote.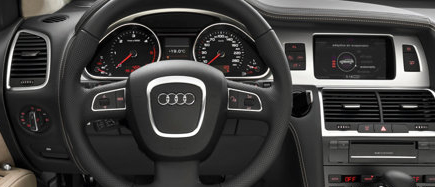 Audi Q7
Category:
4x4 car hire
Delivery in Europe: Austria, Italy, Uk, Germany, France, Spain, Switzerland
Number of seats: 5/6/7
Top speed: 215 km/h
0–100 km/h,s: 7.9
Luggage compartment: 330/775/2035 litre



Audi Q7 TURBO: to rent an Audi Q7 assures image, performance and quality perfectly in line with expectations. Superb flawless finishes with ample space to guarantee free movement of the internal equipment.
Expert opinion: The Audi Q7 is an impressive SUV with a luxurious interior and brilliant engine with acceptable fuel consumption. The aspect is aggressive and powerful with interiors made with care. Either on road or off-road, you can appreciate the remarkable performance of the engine. On snow it has a good grip thanks to the electronics system which recognizes road conditions with low grip.
Pick up and return in Europe:
Italy, Switzerland, France, Spain, Germany.
Pick-up and return in all European cities, to satisfy all customer needs.
Our luxury car rental service guarantees maximum service for our clients. It is possible to rent a luxury car in any European city and return it in another city or different nation.
Rental price
ask for a quote immediately
Rental prices are variable according to the period and duration of rental.
You can ask for a quote immediately, indicating the exact place of pick-up and rental period.
We will offer the best prices with a 5 star service.
Select Country
and Get a Quote