Ferrari 458 Italia

get a quote.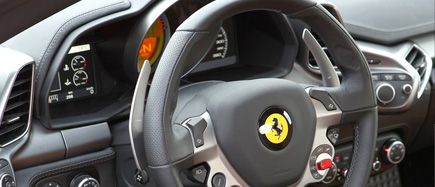 Ferrari 458 Italia
Category:

Ferrari

(N

925872

)
Color: red
Interior: leather interior
Number of seats: 2
Top speed: 320 k.p.h
From 0 to 100 k.p.h.: 3 seconds.
Pick up and Return: in any European city



The Ferrari 458 Italia has always been a more exclusive car with hyper-engine which has further reduced fuel consumption, perfect for rental and for long journeys through the most beautiful cities of Europe.
The gears have been calibrated with fast time responses, with great aerodynamics considering a height of just over 1 metre 20 centimetres. The bucket seats are reminiscent of racing seats with perfect ergonomics.
On the steering wheels there are easy to use controls. Unparalleled is the panoramic view of the 8 Maranello cylinders. The luggage compartment is spaciously discreet.
Pick up and return in Europe:
Italy, Switzerland, France, Spain, Germany.
Pick-up and return in all European cities, to satisfy all customer needs.
Our luxury car rental service guarantees maximum service for our clients. It is possible to rent a luxury car in any European city and return it in another city or different nation.
Rental price
ask for a quote immediately
Rental prices are variable according to the period and duration of rental.
You can ask for a quote immediately, indicating the exact place of pick-up and rental period.
We will offer the best prices with a 5 star service.
Select Country
and Get a Quote