Ferrari 458 spider

get a quote.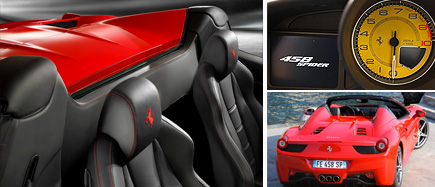 Ferrari 458 Spider
Category:

Ferrari

(N

925872

)
Color: red
Interior: leather interior
Number of seats: 2
Top speed: 320 k.p.h
From 0 to 100 k.p.h.: 3 seconds.
Pick up and Return: in any European city



It is now possible to hire the Ferrari 458 spider from Top Luxury Service in Italy, UK, Switzerland, France, Germany and Austria.
DETAILS: Speeds up to 200 k.p.h. and a 7 speed gearbox with steering wheel controls.
From a declared performance, its top speed is 320 k.p.h. with acceleration from 0 to 100 k.p.h. in less than 3 seconds.
Fuel consumption is 9 kilometres per litre.
The new roof has reduced the weight by 25 kilos. You can open and close it, in only 14 seconds.
The aerodynamics of the Ferrari 458 lets you talk on board even with the sunroof open.
Pick up and return in Europe:
Italy, Switzerland, France, Spain, Germany.
Pick up and return: in all European cities, with possibility to pick-up the car in a different city to that of return.
The client may for example decide to pick-up the car at Nice airport and leave it in another city in France or a different nation, like Italy (Rome, Florence, Venice, Pisa, Naples) Spain, Switzerland (Geneva Airport Swiss Side, Geneva Aiport French Side, Zurich Airport, Lugano) , Germany or Austria.
There are no limits to times. It is possible to pick-up the car during the night.
Upon request the car can be delivered directly at the airport hangar.
Rental price
ask for a quote immediately
Rental prices are variable according to the period and duration of rental.
You can ask for a quote immediately, indicating the exact place of pick-up and rental period.
We will offer the best prices with a 5 star service.
Select Country
and Get a Quote