Ferrari 599

get a quote.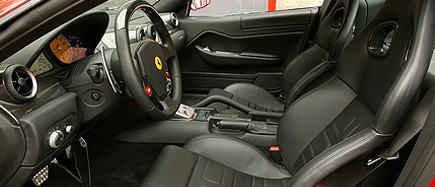 Ferrari 599
Category:

Ferrari

(N

925872

)
Color: red
Interior: leather interior
Number of seats: 2
Top speed: 320 k.p.h
From 0 to 100 k.p.h.: 3 seconds.
Pick up and Return: in any European city



Ferrari 599: 620 horsepower with a top speed of over 330 k.p.h. and an acceleration from 0 to 100 in less than 3 seconds. The engine is a 12 cylinder which derives from the previous Ferrari Enzo. An absolute driving pleasure that comes from the ease with which they exploited the performance and the sound it generates.
The gears were evolved on the Ferrari 599 Fiorano, adding a new technology called F1 super fast. In both types of gears, automatic or manual, the gears have 6 speeds with ratios designed to maximise stability on the road surface. The mounting steering is able to adapt to the response and flexibility, to the increase in speed, obtaining a great road handling at low speeds and great accuracy and sensitivity to high speeds.
Pick up and return in Europe:
Italy, Switzerland, France, Spain, Germany.
Pick-up and return in all European cities, to satisfy all customer needs.
It is possible to rent a Ferrari 599 Fiorano in any European city and return it in another city or different nation.
For example: decide to pick-up the car at Rome airport (Italy) and leave it at Geneva Airport Swiss Side(Switzerland) or Barcellona Airport (Spain) or in another city or a different nation.(France, Spain, Germany, Austria).
There are no limits to times. It is possible to pick-up the car during the night.
Rental price
ask for a quote immediately
Rental prices are variable according to the period and duration of rental.
You can ask for a quote immediately, indicating the exact place of pick-up and rental period.
We will offer the best prices with a 5 star service.
Select Country
and Get a Quote