Mercedes E350

get a quote.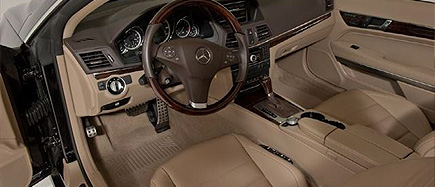 Mercedes E350
Category:

Convertible car hire

(N

809

)

Delivery: pick-up and return in all European cities:
Italy, Uk, Germany, France, Spain, Switzerland.

Top speed: 232 km/h
0–100 km/h,s: 8.5
Luggage compartment: 540 lt



Mercedes class E350: large sedan, perfect for those who prefer classic forms and for those who require rent a car for long journeys. The inside is with fine details, spacious and comfortable with solid trim.
The luggage compartment is big with ample space for suitcases. Fuel consumption is reduced considering the car's category and is quiet for long motorway journeys. The engine is powerful and not noisy.
Stability is at the top of the range: the Mercedes Class E is precise when driving bends and perfectly stable at high speed.
Pick up and return in Europe:
Italy, Switzerland, France, Spain, Germany.
Pick-up and return in all European cities, to satisfy all customer needs.
Our luxury car rental service guarantees maximum service for our clients. It is possible to rent a luxury car in any European city and return it in another city or different nation.
Rental price
ask for a quote immediately
Rental prices are variable according to the period and duration of rental.
You can ask for a quote immediately, indicating the exact place of pick-up and rental period.
We will offer the best prices with a 5 star service.
Select Country
and Get a Quote