Mercedes SLS

get a quote.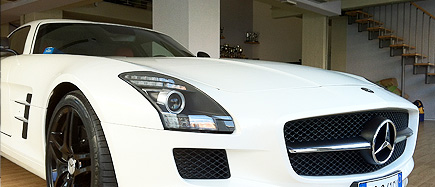 Mercedes SLS
Category:
Prestige car hire

Delivery: pick-up and return in all European cities:
Italy, Uk, Germany, France, Spain, Switzerland.

Number of seats: 2
Top speed: 317 km/h
0–100 km/h,s: 3.8
Luggage compartment: 176 lt


Mercedes SLS: a sporty and refined spider, with the benefit of a true super car capable of providing passenger comfort plus it's easy to drive. Doors that open upwards with luxury leather interiors and first class electronic instruments. The seductive lines of the body, the powerful engine and weight make it perfect for infinite excitement. Fuel consumption is not very demanding.
The spectacular opening of the doors make it irresistible to both men and women. The bonnet is enormous, spettacular and ensures maximum protection. To say in numbers the Mercedes SLS is characterized by 571 horsepower with 7 gears and low gradient making it go from 0 to 100 k.p.h in less than 4 seconds with a top speed of 317 k.p.h.
Pick up and return in Europe:
Italy, Switzerland, France, Spain, Germany.
Pick-up and return in all European cities, to satisfy all customer needs.
Our luxury car rental service guarantees maximum service for our clients. It is possible to rent a luxury car in any European city and return it in another city or different nation.
Rental price
ask for a quote immediately
Rental prices are variable according to the period and duration of rental.
You can ask for a quote immediately, indicating the exact place of pick-up and rental period.
We will offer the best prices with a 5 star service.
Select Country
and Get a Quote