Mercedes Viano

get a quote.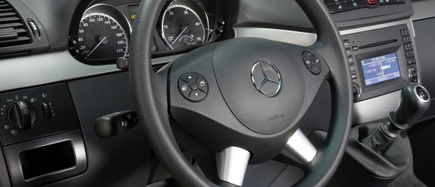 Mercedes Viano
Category:
Prestige car hire

Delivery: pick-up and return in all European cities
Number of seats: 7
Top speed: 159 km/h
0–100 km/h,s: 16



Mercedes VIANO: an elegant, safe and extremely precise VAN, especially when cornering. Consumption is low for this type of car making it ideal for long trips. Comfort on board is of a high level like a luxury Sedan. The strengths of the Mercedes VIANO are certainly its good performance and great road handling. Visibility for the driver is excellent for both front and rear.
Pick up and return in Europe:
Italy, Switzerland, France, Spain, Germany.
Pick-up and return in all European cities, to satisfy all customer needs.
Our luxury car rental service guarantees maximum service for our clients. It is possible to rent a luxury car in any European city and return it in another city or different nation.
Rental price
ask for a quote immediately
Rental prices are variable according to the period and duration of rental.
You can ask for a quote immediately, indicating the exact place of pick-up and rental period.
We will offer the best prices with a 5 star service.
Select Country
and Get a Quote