Porsche Cayenne

get a quote.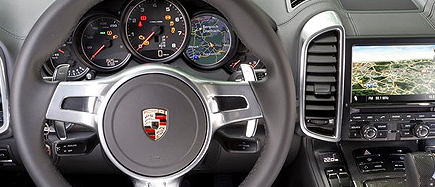 Porsche Cayenne
Rental profile: 4x4 hire
Delivery in Europe: Austria, Italy, Uk, Germany, France, Spain, Switzerland
Number of seats: 5
Top speed: 278 km/h
0–100 km/h,s: 4,7
Luggage compartment: 670/1705 litre
Pick up and Return: in any European city



Porche Cayenne. A SUV from the Porsche range with good handling and a very secure grip on the road. It grips well to the road and moves without difficulty in urban traffic. Steering is well calibrated to maximum comfort for the driver. The interior manages to combine style with taste and sporty elements of prestigious finishing.
Road handling and stability are noted with quick gears and fuel economy. Precise with bends and with an optimal braking system, the Porche Cayenne is a gritty car able to excite. The strong engine is silent.
Pick up and return in Europe:
Italy, Switzerland, France, Spain, Germany.
Pick-up and return in all European cities, to satisfy all customer needs.
Our luxury car rental service guarantees maximum service for our clients. It is possible to rent a luxury car in any European city and return it in another city or different nation.
Rental price
ask for a quote immediately
Rental prices are variable according to the period and duration of rental.
You can ask for a quote immediately, indicating the exact place of pick-up and rental period.
We will offer the best prices with a 5 star service.
Select Country
and Get a Quote