Bentley Continental

get a quote.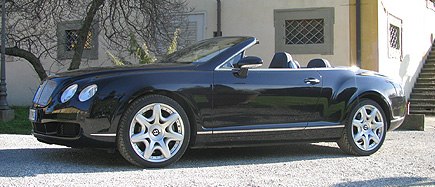 Bentley Continental
Category:
Convertible car hire
Delivery: pick-up and return in all European cities:
Italy, Uk, Germany, France, Spain, Switzerland.

Top speed: 318 km/h
0–100 km/h,s: 4.6
Luggage compartment: 358 lt



BENTLEY CONTINENTAL: Seductive and exclusive, the Bentley is an easily recognizable car. The interior is even more luxurious in every detail and very prestigious.
In and out of bends with great speed, it remains perfectly secure on the road. Road handling and brakes are of a high level. Worth trying it on a race track to experience the thrill of high speed with gears on the steering wheel.
The Bentley's motor is both powerful and docile. It is also perfect for long drives.
Pick up and return in Europe:
Italy, Switzerland, France, Spain, Germany.
Pick-up and return in all European cities, to satisfy all customer needs.
Our luxury car rental service guarantees maximum service for our clients. It is possible to rent a luxury car in any European city and return it in another city or different nation.
Rental price
ask for a quote immediately
Rental prices are variable according to the period and duration of rental.
You can ask for a quote immediately, indicating the exact place of pick-up and rental period.
We will offer the best prices with a 5 star service.
Select Country
and Get a Quote