Convertible car hire:

pick-up and return in all European cities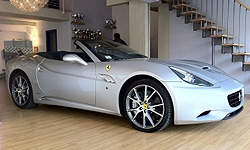 Rent a Ferrari California
Rental profile: convertible car hire
Info: Is at ease both on the highway and in the city streets, where it's possible to count on the large capacity of the steering. The comfort behind the wheel goes well with the spaces of the car, allowing the maximum comfort even for a body size extra large.
Delivery: Italy, Uk, Germany, France, Spain, Switzerland.
Number of seats: 2 + 2 - Top speed: 310 km/h - 0–100 km/h,s: 3.9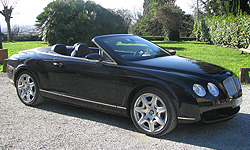 Rent a Bentley
Rental profile: convertible car hire
Info: Road holding is perfect, constantly adapting to any road conditions. In curves is agile, thanks to a responsive steering, capable of satisfy quickly every handle of the pilot.
Delivery: pick-up and return in all European cities:
Italy, Uk, Germany, France, Spain, Switzerland.
Top speed: 318 km/h - 0–100 km/h,s: 4.6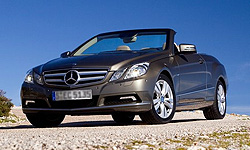 Rent a Mercedes E Class Cabrio
Rental profile: convertible car hire
Delivery: Italy, Uk, Germany, France, Spain, Switzerland.
Info: Soft materials and perfect combinations make the interior particularly elegant. Abundant space in front and behind, with a quiet ride, guaranteed also in higher speeds.
For the driver comfort is excellent from every point of view.
Top speed: 232 km/h - 0–100 km/h,s: 8.5 - Luggage: 540 lt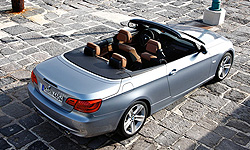 Rent a BMW 330
Rental profile: convertible car hire
Delivery: pick-up and return in all European cities:
Italy, Uk, Germany, France, Spain, Switzerland.
Top speed: 228 km/h
0–100 km/h,s: 9.1
Luggage compartment: 210 lt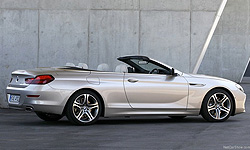 Rent a BMW 640
Rental profile: convertible car hire
Delivery: pick-up and return in all European cities:
Italy, Uk, Germany, France, Spain, Switzerland.
Top speed: 250 km/h
0–100 km/h,s: 5,7
Luggage compartment: 300/350 lt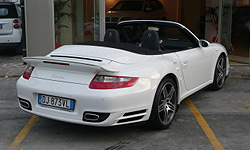 Rent a Porsche 911
Rental profile: convertible car hire
Delivery: pick-up and return in all European cities:
Italy, Uk, Germany, France, Spain, Switzerland.
Top speed: 289 km/h
0–100 km/h,s: 5,1
Luggage compartment: 135 +150 lt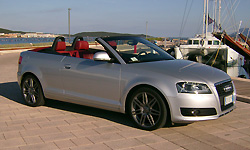 Rent a Audi A3
Rental profile: convertible car hire
Delivery: pick-up and return in all European cities:
Italy, Uk, Germany, France, Spain, Switzerland.
Top speed: 188
0–100 km/h,s: 12,2
Luggage compartment: 260 lt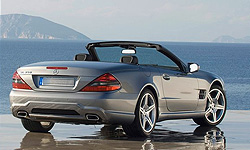 Rent a Mercedes SL 350 cabrio
Rental profile: convertible car hire
Delivery: pick-up and return in all European cities:
Italy, Uk, Germany, France, Spain, Switzerland.
Top speed: 250 km/h
0–100 km/h,s: 5.9
Luggage compartment: 364 lt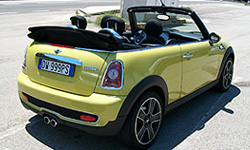 Rent a Minicooper S cabrio
Rental profile: convertible car hire
Delivery: pick-up and return in all European cities:
Italy, Germany, France, Spain, Switzerland.
Top speed: 181
0–100 km/h,s: 11.3
Luggage compartment: 125 lt


About us
convertible car hire
Our fleet is full of prestigious brands such as Bentley, Ferrari, Lamborghini, Maserati, Mercedes and Audi. Do not miss BMW, Mini, Range Rover and Aston Martin.
Choose from convertible car, exotic car, prestige car, luxury car and 4X4.
Cars with instant availability, with the chance to request delivery and collection in different cities.
Rental price
ask for a quote immediately
Rental prices are variable according to the period and duration of rental.
You can ask for a quote immediately, indicating the exact place of pick-up and rental period.
We will offer the best prices with a 5 star service.
Select Country
and Get a Quote