Porsche 911

get a quote.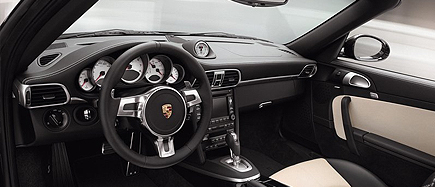 Porsche 911
Category:
Convertible car hire

Delivery: pick-up and return in all European cities:
Italy, Uk, Germany, France, Spain, Switzerland.

Top speed: 289 km/h
0–100 km/h,s: 5,1
Luggage compartment: 135 +150 lt



Porche 911. Rear engine with 6 cylinders and 530 horsepower. This is the identity card of the Posche 911. The myth of the Porsche brands. 100 k.p.h. starting from 0 is achieved in as little as 3.7 seconds.
Its top speed is another record with 329 k.ph. The lightweight construction, kept at an overall low weight, ensures an acceptable average consumption for cars of this type. All these elements combine to make the Porche 911 the perfect rental car for your trip in Europe. Agile, responsive and perfectly safe especially when driving bends. It's very attractive from the point of design.
Porsche 911: sporty with a distinctive shape, the Porsche 911 has a stimulating engine, capable of giving a thrilling performance. The roof closed, the smooth and tight tops make this line of car as clean as the coupè. The luxurious interior is rich with high technology. With the hood down you can enjoy the sound of the engine. It's a comfortable car and is fast on tarmac.
Pick up and return in Europe:
Italy, Switzerland, France, Spain, Germany.
Pick-up and return in all European cities, to satisfy all customer needs.
Our luxury car rental service guarantees maximum service for our clients. It is possible to rent a luxury car in any European city and return it in another city or different nation.
Rental price
ask for a quote immediately
Rental prices are variable according to the period and duration of rental.
You can ask for a quote immediately, indicating the exact place of pick-up and rental period.
We will offer the best prices with a 5 star service.
Select Country
and Get a Quote